Four unlikely heroes must make a harrowing trek through a war-torn United States. Their cargo? Plans for a devastating German bomb that will change the face of the 20th century: 'Project Luderitz'.
The Divided States: Announcement trailer
The year is 1940. Chicago and washington have fallen. An American Red Revolution has collapsed federal authority. The Second American Civil War has begun.
The Divided States is an anthology animatic project by Kaiser Cat Cinema, following the stories of everyday American citizens in a dark alt-history universe inspired by 'All the Russia's' and 'Kaiserreich'.
[e01]  Not in Kansas Anymore
Chicago is a city in turmoil. The capitol of the combined syndicates is stricken by hunger and internal strife. Loyalist forces have taken control of Washington. The Revolutionary government is in turmoil, and the Anarchist and Jacobin factions are at eachother's throats over the bombing of the Board of Trade Building.
Idealistic Red Guard Volunteer Emily Faulkner is summoned to the Worker's Mart, where she comes face to face with the mauling jaws of history…
With performances by ELANNA WHITE, EMILY SERDAHL, BRENDAN MCGRADY, JERRY SCHULTZ, WILLIAM MCDONOUGH and IAN SCARANTINO.
[e02]  Friends Like These
An anarchist uprising rocks Chicago, with simultaneous attacks on various Socialist strongholds throughout the city. In the confusion, a band of Anarchist revolutionaries break out Albert, a mysterious German scientist. The escape goes sideways, and Albert and Emily's journeys collide.
With performances by ELANNA WHITE, EMILY SERDAHL, BRENDAN MCGRADY, JERRY SCHULTZ, WILLIAM MCDONOUGH, JET FALCO, DAVID COOK, JON KAVA and BRIAN JEFFORDS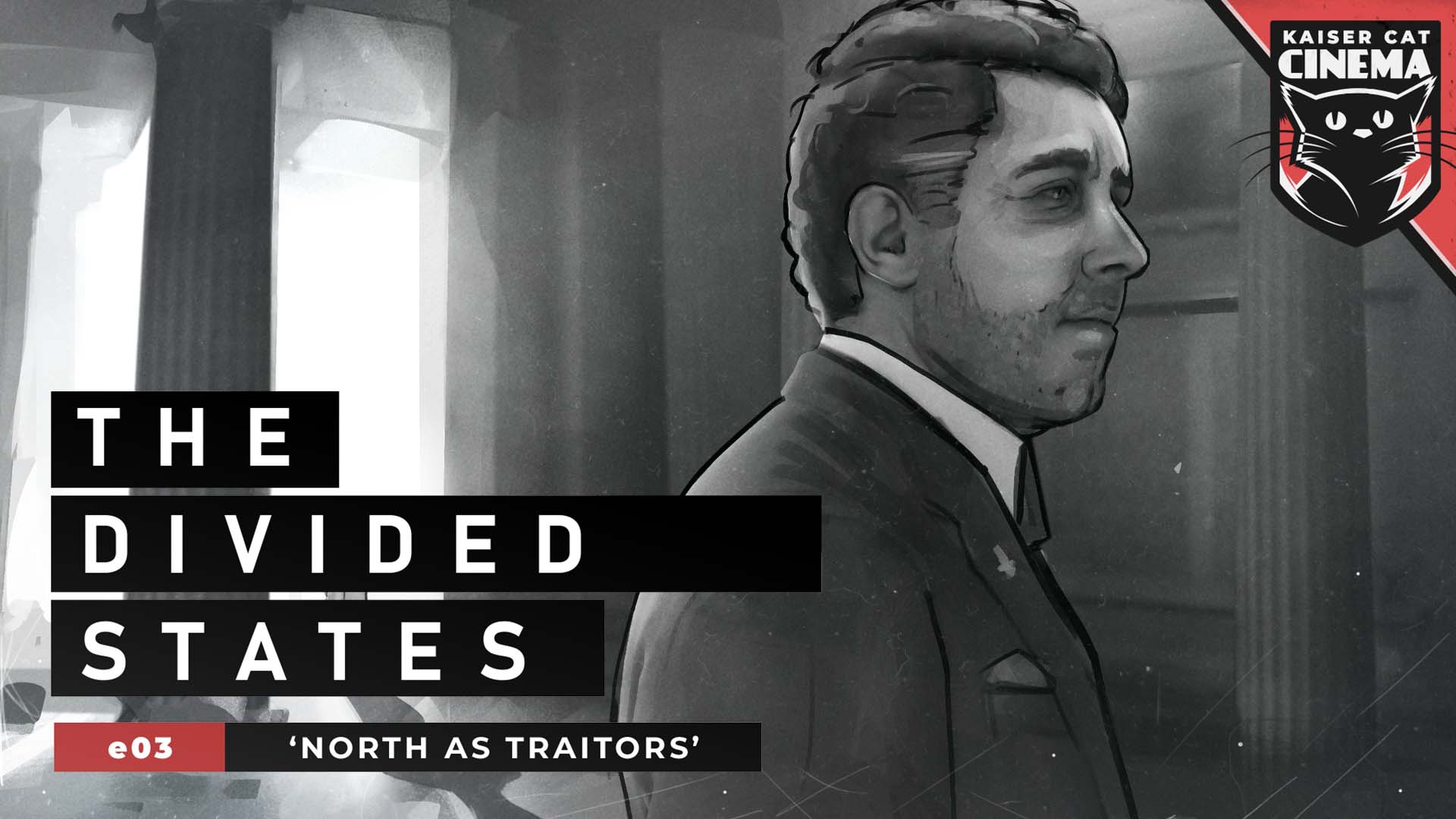 [e03]  North as Traitors (2024)
Loyalist president Howard Langdon receives concerning reports from the interior states. Sawyer and Logan encounter heavy resistance as their unit heads into the outskirts of St. Louis. At the same time, Albert and Emily arrive to the war-torn city. Emily attempts to find her aunt…
Work-in-progress episode available for Patreons
Various standalone shorts highlighting the Second American Civil war from the viewpoint of different factions and characters.
The Divided States: Strife (2021)

The year is 1937. New York and Chicago have fallen. A Red revolution has swept the Great Lakes area, collapsing federal authority and unleashing a Second American Civil War. Welcome to the dark world of The Divided States.
In the middle of the turmoil, a Red militiawoman returns to her home to find her family struggling with fractured loyalties and beliefs.
Direct and produced by JORDAN PENELLE, NICHOLAS GRITSENKO, MISSING NAME. With performances by PAIGE BOURNE, JAKE ANDERSON, ANITA COSTABILE, ALEX DUNK.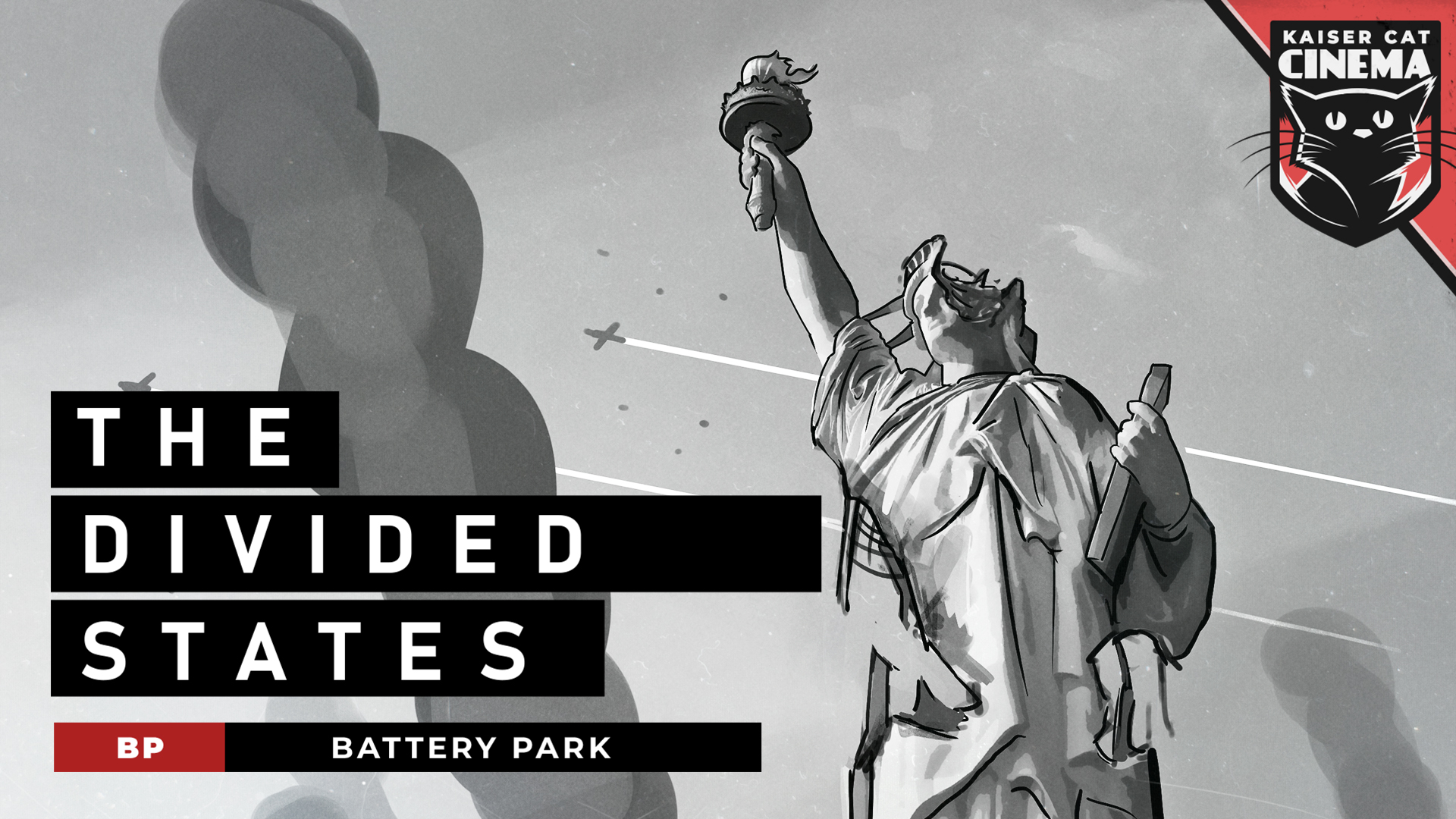 The Divided States: Battery Park (TBD)
The year is 1938. A young Federalist recruit from the midwest is dragged into war against his will. Drafted and trained as emergency reserves, his units finds itself gathered for a daring plan to retake New York from Revolutionary control: A naval attack on the heartland of the peninsula.
Episode in pre-production
All rights reserved, Kaiser Cat Cinema (Atelier Vincent De Nil BV), Belgium. Professional inquiries: vincentdenil.com / vincent@kaisercatcinema.com